Personalized gifts have the power to make anyone feel special. Whether it's a loved one, friend, or colleague, adding a personal touch to a gift shows that thought and effort went into the present. This blog post will explore why personalized gifts work for everyone and provide inspiration for choosing the perfect personalized gift for any occasion.
From custom jewelry to monogrammed home decor, the possibilities are endless. So, get ready to find out why personalized gifts are the ultimate way to show someone how much they mean to you.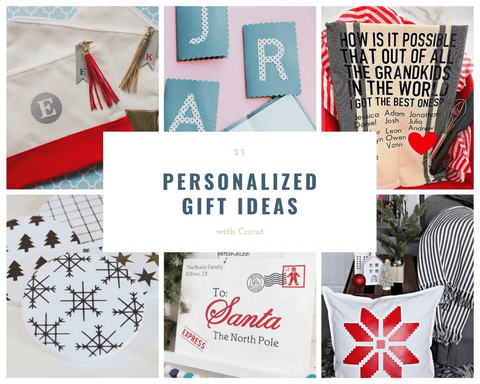 What is Personalized Gift Means?
A personalized gift refers to a present that has been customized or tailored to suit the recipient's interests, preferences, or personal information. This could include adding the recipient's name, initials, or a special message to the gift. Personalized gifts are often seen as more meaningful and thoughtful than generic gifts, as they demonstrate that the giver has put effort into choosing a gift that is unique and specific to the recipient.
Let's explore 10 reasons why personalized gifts make your presents great:
Show thoughtfulness:Personalizing a gift shows that you took the time to think about the recipient and choose a unique present. This gesture can make the gift feel more special and thoughtfully chosen and leave a lasting impression on the recipient.
Unique and one-of-a-kind:Personalized gifts are unique because they are not mass-produced and are made specifically for one person. This makes the gift one-of-a-kind and adds a personal touch to the present. The recipient will likely appreciate the effort and thought that went into creating a unique, customized gift just for them. One gift is personalized; similar gadgets have a variety of touches.  
Memorable: Personalized gifts are memorable because they become keepsakes that the recipient can treasure for years. The personal touch makes the gift more meaningful and helps create lasting memories. These gifts are often kept and displayed, reminding the recipient of the thoughtfulness and effort in choosing such a special present.
Suitable for any occasion:Personalized gifts are versatile and can be suitable for various occasions, such as birthdays, holidays, anniversaries, or just because. These gifts are a thoughtful way to show someone you care, no matter the occasion. Adding a personal touch makes the recipient feel special and appreciated, making the gift even more meaningful.
Perfect for all relationships:Personalized gifts are a great way to show someone that you care about them and have put thought into their gift. These gifts range from custom jewelry and photo frames to monogrammed stationery and personalized home decor. They are suitable for all types of relationships, including close friends, family members, romantic partners, and even coworkers, making them versatile and suitable gift options for any occasion.
Can be tailored to individual preferences:Personalized gifts offer the opportunity to tailor the gift to the recipient's specific preferences and interests. For example, if they are a fan of a particular sports team, you could get them a custom jersey with their name on it. If they are a wine connoisseur, you could get them a personalized wine bottle with their name on it. By customizing the gift to their unique tastes and interests, you can show them that you genuinely understand and care about them, making the gift all the more special.
Fits any budget:Personalized gifts come in a wide range of prices, from budget-friendly options to luxurious gifts, making them suitable for any budget. Inexpensive options can include customized key chains, photo frames, and mugs, while more expensive gifts can include custom jewelry, personalized home decor, and monogrammed leather goods. A personalized gift conveys your emotions to your loved one regardless of the price range.
Suitable for all ages:Personalized gifts are suitable for recipients of all ages, making them a versatile gift option. You can get kids personalized toys, backpacks, or storybooks with their names on them. For seniors, you can get them custom photo albums, monogrammed throw pillows, or personalized jewelry. Regardless of age, a personalized gift adds a personal touch and shows that you have put thought into it, making it all the more special and meaningful.
Suits their personality:Personalizing a gift is a way to make the present extra special and unique. When you take the time to customize a gift, you show that you understand the recipient's personality and interests. This type of gift is much more meaningful and memorable than a generic one, as it is tailored specifically for the recipient.
By incorporating their favorite colors, hobbies, or personal messages, you create an item that is truly one-of-a-kind and perfect for them. A personal touch can make all the difference in how a gift is received and appreciated. So, if you're looking for a way to make a lasting impression, consider making a personalized gift for your loved one.
Practical use:Personalized gifts can often be used in everyday life, making them more valuable than decorative items. Whether it's a customized coffee mug for your morning caffeine fix, a monogrammed notebook for work or school, or a personalized keychain to keep your keys organized, these gifts offer functionality and sentimental value.
Personalized gifts can also be given to commemorate special events such as weddings, birthdays, or anniversaries. They make great keepsakes that can be treasured for years to come, reminding the recipient of the thought and care that went into choosing the perfect gift.  
Final Words
Personalization adds a level of thoughtfulness and effort unmatched by generic gifts. It shows that you have taken the time to consider their interests and preferences and have put in the effort to create something just for them. Personalized gifts also have a sentimental value not found in other gifts.
They are a lasting reminder of the special moment or event that they were given for and can be cherished for years to come. Whether it's a custom piece of jewelry, a monogrammed item, or a particular photo, personalized gifts are the perfect way to make your present stand out and show the recipient how much you care. So next time you're looking to buy a gift, consider making it personal!